[vc_row][vc_column width="1/1″][vc_single_image image="7199″ border_color="grey" img_link_target="_self" img_size="medium"][vc_column_text]Why a pet portrait session? Who does it suits?
The common factor with my clients who have visited my studio (or I have met on location)to have a pet photography studio session is that their pets are very important to them. Some of them (like myself) do not have children and their pets are their babies, others have a (human) family but their pets bring them a lot of joy in their life and they value them. For some of my clients, their pets have helped them emotionally to deal with illnesses or loneliness.  They also appreciate art – value professional photography and their desire is to create beautiful memories of their beloved pets. The resulting images will become a main feature on their walls or home decor (think of fine art wall portrait, albums and folios for example)..Does this sound like you?
You are tempted but not sure your pet will be suitable?
When viewing my images on my website and social medias, you see the best images from a session. The images have gone through a selection and have been retouched to create what you see. It takes hours of work to create those beautiful images.
Many pet owners see my images and are thinking the following:
– my pet can't be off the lead / my pet don't stand still / my pet is not trained very well /my pet is not photogenic / etc..
If your pet needs to stay on the lead, that's not a problem – it's removed afterwards during the editing. See the video below. Most pet(s) do not stand still for very long..I only need a second or two to take the photo! I have photographed many dogs and cats and I have many tricks in my bag  to create the images that you will love!

Studio editing example from Joanne Thibodeau on Vimeo.[/vc_column_text][vc_single_image image="7087″ alignment="center" border_color="grey" img_link_target="_self" img_size="medium"][vc_column_text]What happens during a pet portrait studio session?
When you book a session at my studio, you receive a beautiful welcome pack that will help you getting ready for your session. A few days before the session I will call you to discuss any questions you may have and it's time to get excited about bringing your pet to my studio!
Any dog(s)/cat(s) will be given some time to relax and explore the session. Once they are relaxed,  I will fire my strobes (away from them) to see if they notice it (I find most dogs do not really notice the flashed – for cats it's 50/50 some notice it and some do not really mind). Once I know your pet is happy with everything we get started. The first 15 minutes gives me the time to judge what works the best with your pet. Some pets or motivated by food and others by toys or noises so I will use those tools to get their attention. Cats requires a lot more patience, it's more a case of trying to keep them on my props for a few seconds just to give me the time to take a few shots. I am very patient with your pets, I never get impatient with them and I will ask you to do the same…it's not always easy![/vc_column_text][vc_gallery type="image_grid" interval="3″ images="7166,7165,7154″ onclick="link_image" custom_links_target="_self" img_size="thumnail"][vc_column_text]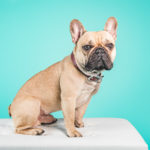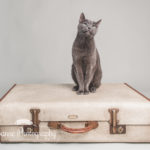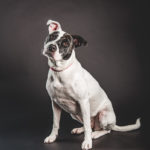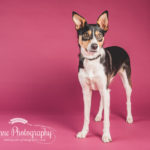 Backdrops and props
During the pet portrait session, your pet will get plenty of breaks. I will have up to three change of backdrops but this will also depends on your pet personality/level of training. The better trained your pet is, the more final images I will be able to create – it will also give me the time to make more changes in terms of using props and different backdrops. I will normally have between 15-30 retouched images to show during your ordering session. If your pet is not a natural in the studio it will probably be more in the lower range and a very well trained pet will end up with a larger selection of images.
At the end of the session I will show you some of my samples to give you an idea of the products you will be able to order during your ordering appointment. We will also decide on a date for your viewing & ordering session.[/vc_column_text][vc_column_text]Pet Photography Studio Session – More than one pet?
If you are bringing more than one dog, unless your dogs are very well trained I really would like to encourage you to bring another family member/friend to help out during the session. We will often work with one pet at a time so someone else would need to keep an eye on your other pet(s).
My studio is quite small so I can take very small dogs (up to 4) up to 3 small to medium dogs, 2 large dogs and one very large dog (standard poodle / great dane/etc..)
Are family welcomed?
Yes of course! I can work with families & pets. I would suggest no more than 4 person and two dogs otherwise it's going to be too small. I would suggest doing an outdoor session if more pets/people are involved in the portrait session.[/vc_column_text][vc_column_text]The ordering appointment
Normally the appointment is 2-4 weeks after the pet portrait session. You will come back to the studio and I will reveal your images on a slideshow. Bring any decision maker with you as this is the only time you will be able to place your order! It's best not to bring young children as you will need to be able to concentre on deciding on the best images/products from your session.
I will help you whenever you are unsure and I will be able to show you how your wall art would look in a frame with my special software. Most of my clients will invest from £500 but some will spend more and some less depending on your budget. I offer a very flexible payment plan as well, all I have is a 20% deposit at the end of the ordering session.
A few weeks later you will receive your beautiful fine art products for you to cherish for years to come.
You can now visit my studio portfolio or book your pet photography studio session now![/vc_column_text][/vc_column][/vc_row]